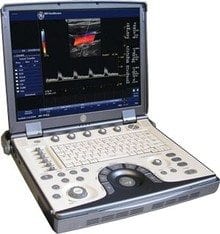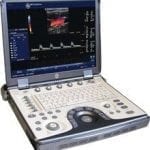 GE LOGIQ e
Quick Overview
GE Healthcare's LOGIQ e is known for its comprehensive imaging capabilities (including diagnostic and image-guided procedures), on-board image storage and time-saving features for emergency situations. The LOGIQ e is everything you need, in an easy-to-use package that fits in your hands and goes anywhere.
Condition: Refurbished
Description
Additional information
PDF Documents
Description
Features
Compact, point-of-care ultrasound
CrossXBeam technology enhances image clarity by defining continuous boundaries and reducing speckle
Coded Harmonic Imaging improves tissue visualization and anatomical border definition for greater accuracy
Automatic Image Optimization
Ergonomically designed to be fast and easy to use
Ready to scan when seconds count – the LOGIQ e system boots up in 20 seconds
40GB Hard Drive
System Specifications
Height: 61 mm (2.49 in) console only
Width: 340 mm (13.88 in)
Depth: 287 mm (11.71 in) console only
Weight: approx. 4.6 kg (10.1 lb.)
Display Screen: 15 inch High-Resolution Color LCD
Applications
Abdominal
Cardiology
Obstetrical
Gynecological
Musculoskeletal
Vascular
Urological
Small Parts and Superficial
Pediatric and Neonatal
Transducer Types
Convex Array
Microconvex Array
Linear Array
Phased Array
Operating Modes
B-Mode
M-Mode
Color Flow Mode (CFM)
Power Doppler Imaging (PDI)
Continuous Wave Doppler (optional)
Pulse Wave Doppler (PWD)
Transducers
GE 4C-RS – 2.0-5.5MHz, Convex
GE E8C-RS – 4-10MHz, Microconvex
GE 8C-RS – 4-10MHz, Microconvex
GE 3S-RS – 1.5-4.0MHz, Phased Array
GE 8L-RS – 4-12MHz, Linear
GE 12L-RS – 5-13MHz, Linear
GE i12L-RS – 4-10MHz, Linear
Imaging Associates offers this ultrasound system in used and fully refurbished condition. Our refurbished ultrasound systems have undergone extensive testing and meet or exceed OEM specifications. They are re-configured to meet the current needs of the customer. They have been completely refurbished technically and cosmetically to like new condition. For more information on this ultrasound system please click on the box located at the top of this page, then fill out and submit the form.
PDF Documents