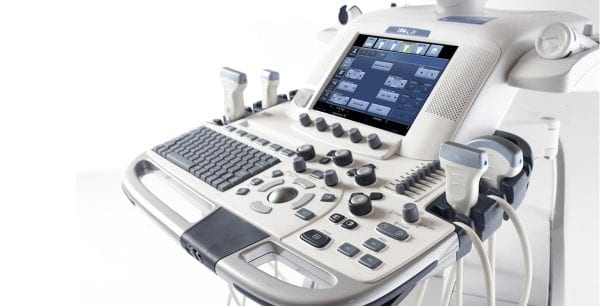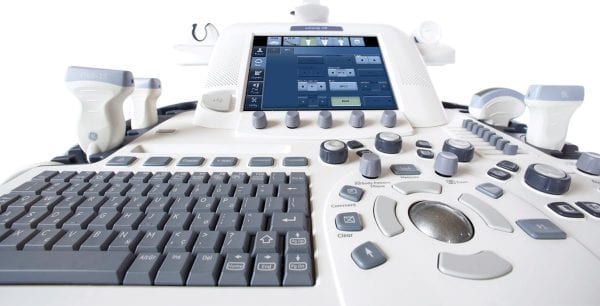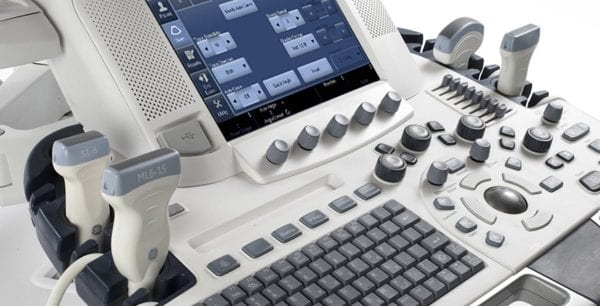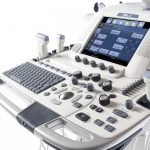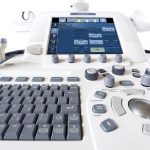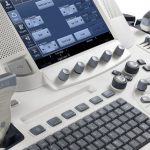 GE LOGIQ E9 with XDclear
WC_Product_Simple Object
(
    [id:protected] => 4167
    [data:protected] => Array
        (
            [name] => GE LOGIQ E9 with XDclear
            [slug] => ge-logiq-e9-with-xdclear
            [date_created] => WC_DateTime Object
                (
                    [utc_offset:protected] => 0
                    [date] => 2018-04-10 08:27:23.000000
                    [timezone_type] => 3
                    [timezone] => America/New_York
                )

            [date_modified] => WC_DateTime Object
                (
                    [utc_offset:protected] => 0
                    [date] => 2018-06-13 09:48:52.000000
                    [timezone_type] => 3
                    [timezone] => America/New_York
                )

            [status] => publish
            [featured] => 
            [catalog_visibility] => visible
            [description] => The LOGIQ* E9 with XDclear is a powerful and versatile general imaging system that helps meet a wide variety of general imaging needs. With its intuitive, advanced capabilities, the LOGIQ E9 with XDclear allows you to make every day extraordinary

LOGIQ E9 with XDclear can help you:

Deliver extraordinary image quality on a broad spectrum of patient body types.
Visualize blood flow without the limitations of Doppler
Enhance your workflow.
Integrate real-time ultrasound with previously acquired CT, MR, PET, or ultrasound images.
Visually track your position during a scan.
            [short_description] => 

Quick Overview


A powerful and versatile general imaging system that helps meet a wide variety of general imaging needs.
            [sku] => 
            [price] => 
            [regular_price] => 
            [sale_price] => 
            [date_on_sale_from] => 
            [date_on_sale_to] => 
            [total_sales] => 0
            [tax_status] => taxable
            [tax_class] => 
            [manage_stock] => 
            [stock_quantity] => 
            [stock_status] => instock
            [backorders] => no
            [low_stock_amount] => 
            [sold_individually] => 
            [weight] => 
            [length] => 
            [width] => 
            [height] => 
            [upsell_ids] => Array
                (
                )

            [cross_sell_ids] => Array
                (
                )

            [parent_id] => 0
            [reviews_allowed] => 
            [purchase_note] => 
            [attributes] => Array
                (
                )

            [default_attributes] => Array
                (
                )

            [menu_order] => 0
            [post_password] => 
            [virtual] => 
            [downloadable] => 
            [category_ids] => Array
                (
                    [0] => 215
                    [1] => 229
                )

            [tag_ids] => Array
                (
                )

            [shipping_class_id] => 0
            [downloads] => Array
                (
                )

            [image_id] => 4329
            [gallery_image_ids] => Array
                (
                    [0] => 4330
                    [1] => 4331
                )

            [download_limit] => 0
            [download_expiry] => 0
            [rating_counts] => Array
                (
                )

            [average_rating] => 0
            [review_count] => 0
        )

    [changes:protected] => Array
        (
        )

    [object_read:protected] => 1
    [object_type:protected] => product
    [extra_data:protected] => Array
        (
        )

    [default_data:protected] => Array
        (
            [name] => 
            [slug] => 
            [date_created] => 
            [date_modified] => 
            [status] => 
            [featured] => 
            [catalog_visibility] => visible
            [description] => 
            [short_description] => 
            [sku] => 
            [price] => 
            [regular_price] => 
            [sale_price] => 
            [date_on_sale_from] => 
            [date_on_sale_to] => 
            [total_sales] => 0
            [tax_status] => taxable
            [tax_class] => 
            [manage_stock] => 
            [stock_quantity] => 
            [stock_status] => instock
            [backorders] => no
            [low_stock_amount] => 
            [sold_individually] => 
            [weight] => 
            [length] => 
            [width] => 
            [height] => 
            [upsell_ids] => Array
                (
                )

            [cross_sell_ids] => Array
                (
                )

            [parent_id] => 0
            [reviews_allowed] => 1
            [purchase_note] => 
            [attributes] => Array
                (
                )

            [default_attributes] => Array
                (
                )

            [menu_order] => 0
            [post_password] => 
            [virtual] => 
            [downloadable] => 
            [category_ids] => Array
                (
                )

            [tag_ids] => Array
                (
                )

            [shipping_class_id] => 0
            [downloads] => Array
                (
                )

            [image_id] => 
            [gallery_image_ids] => Array
                (
                )

            [download_limit] => -1
            [download_expiry] => -1
            [rating_counts] => Array
                (
                )

            [average_rating] => 0
            [review_count] => 0
        )

    [data_store:protected] => WC_Data_Store Object
        (
            [instance:WC_Data_Store:private] => WC_Product_Data_Store_CPT Object
                (
                    [meta_type:protected] => post
                    [object_id_field_for_meta:protected] => 
                    [internal_meta_keys:protected] => Array
                        (
                            [0] => _visibility
                            [1] => _sku
                            [2] => _price
                            [3] => _regular_price
                            [4] => _sale_price
                            [5] => _sale_price_dates_from
                            [6] => _sale_price_dates_to
                            [7] => total_sales
                            [8] => _tax_status
                            [9] => _tax_class
                            [10] => _manage_stock
                            [11] => _stock
                            [12] => _stock_status
                            [13] => _backorders
                            [14] => _low_stock_amount
                            [15] => _sold_individually
                            [16] => _weight
                            [17] => _length
                            [18] => _width
                            [19] => _height
                            [20] => _upsell_ids
                            [21] => _crosssell_ids
                            [22] => _purchase_note
                            [23] => _default_attributes
                            [24] => _product_attributes
                            [25] => _virtual
                            [26] => _downloadable
                            [27] => _download_limit
                            [28] => _download_expiry
                            [29] => _featured
                            [30] => _downloadable_files
                            [31] => _wc_rating_count
                            [32] => _wc_average_rating
                            [33] => _wc_review_count
                            [34] => _variation_description
                            [35] => _thumbnail_id
                            [36] => _file_paths
                            [37] => _product_image_gallery
                            [38] => _product_version
                            [39] => _wp_old_slug
                            [40] => _edit_last
                            [41] => _edit_lock
                        )

                    [must_exist_meta_keys:protected] => Array
                        (
                            [0] => _tax_class
                        )

                    [extra_data_saved:protected] => 
                    [updated_props:protected] => Array
                        (
                        )

                )

            [stores:WC_Data_Store:private] => Array
                (
                    [coupon] => WC_Coupon_Data_Store_CPT
                    [customer] => WC_Customer_Data_Store
                    [customer-download] => WC_Customer_Download_Data_Store
                    [customer-download-log] => WC_Customer_Download_Log_Data_Store
                    [customer-session] => WC_Customer_Data_Store_Session
                    [order] => WC_Order_Data_Store_CPT
                    [order-refund] => WC_Order_Refund_Data_Store_CPT
                    [order-item] => WC_Order_Item_Data_Store
                    [order-item-coupon] => WC_Order_Item_Coupon_Data_Store
                    [order-item-fee] => WC_Order_Item_Fee_Data_Store
                    [order-item-product] => WC_Order_Item_Product_Data_Store
                    [order-item-shipping] => WC_Order_Item_Shipping_Data_Store
                    [order-item-tax] => WC_Order_Item_Tax_Data_Store
                    [payment-token] => WC_Payment_Token_Data_Store
                    [product] => WC_Product_Data_Store_CPT
                    [product-grouped] => WC_Product_Grouped_Data_Store_CPT
                    [product-variable] => WC_Product_Variable_Data_Store_CPT
                    [product-variation] => WC_Product_Variation_Data_Store_CPT
                    [shipping-zone] => WC_Shipping_Zone_Data_Store
                    [webhook] => WC_Webhook_Data_Store
                    [report-revenue-stats] => Automattic\WooCommerce\Admin\API\Reports\Orders\Stats\DataStore
                    [report-orders] => Automattic\WooCommerce\Admin\API\Reports\Orders\DataStore
                    [report-orders-stats] => Automattic\WooCommerce\Admin\API\Reports\Orders\Stats\DataStore
                    [report-products] => Automattic\WooCommerce\Admin\API\Reports\Products\DataStore
                    [report-variations] => Automattic\WooCommerce\Admin\API\Reports\Variations\DataStore
                    [report-products-stats] => Automattic\WooCommerce\Admin\API\Reports\Products\Stats\DataStore
                    [report-variations-stats] => Automattic\WooCommerce\Admin\API\Reports\Variations\Stats\DataStore
                    [report-categories] => Automattic\WooCommerce\Admin\API\Reports\Categories\DataStore
                    [report-taxes] => Automattic\WooCommerce\Admin\API\Reports\Taxes\DataStore
                    [report-taxes-stats] => Automattic\WooCommerce\Admin\API\Reports\Taxes\Stats\DataStore
                    [report-coupons] => Automattic\WooCommerce\Admin\API\Reports\Coupons\DataStore
                    [report-coupons-stats] => Automattic\WooCommerce\Admin\API\Reports\Coupons\Stats\DataStore
                    [report-downloads] => Automattic\WooCommerce\Admin\API\Reports\Downloads\DataStore
                    [report-downloads-stats] => Automattic\WooCommerce\Admin\API\Reports\Downloads\Stats\DataStore
                    [admin-note] => Automattic\WooCommerce\Admin\Notes\DataStore
                    [report-customers] => Automattic\WooCommerce\Admin\API\Reports\Customers\DataStore
                    [report-customers-stats] => Automattic\WooCommerce\Admin\API\Reports\Customers\Stats\DataStore
                    [report-stock-stats] => Automattic\WooCommerce\Admin\API\Reports\Stock\Stats\DataStore
                    [filter_preset] => YITH_WCAN_Preset_Data_Store
                    [filter_session] => YITH_WCAN_Session_Data_Store
                    [wishlist] => YITH_WCWL_Wishlist_Data_Store
                    [wishlist-item] => YITH_WCWL_Wishlist_Item_Data_Store
                )

            [current_class_name:WC_Data_Store:private] => WC_Product_Data_Store_CPT
            [object_type:WC_Data_Store:private] => product-simple
        )

    [cache_group:protected] => products
    [meta_data:protected] => 
    [legacy_datastore_props:protected] => Array
        (
        )

    [post_type:protected] => product
    [supports:protected] => Array
        (
            [0] => ajax_add_to_cart
        )

)

Quote request or question?
Quick Overview
A powerful and versatile general imaging system that helps meet a wide variety of general imaging needs.
Description
Extraordinary Images
Easy Workflow
PDF Documents
Description
The LOGIQ* E9 with XDclear is a powerful and versatile general imaging system that helps meet a wide variety of general imaging needs. With its intuitive, advanced capabilities, the LOGIQ E9 with XDclear allows you to make every day extraordinary
LOGIQ E9 with XDclear can help you:
Deliver extraordinary image quality on a broad spectrum of patient body types.
Visualize blood flow without the limitations of Doppler
Enhance your workflow.
Integrate real-time ultrasound with previously acquired CT, MR, PET, or ultrasound images.
Visually track your position during a scan.
Extraordinary images every day.
The LOGIQ* E9 with XDclear features advanced technology that gives you the ability to capture extraordinary images on routine to difficult exams. Innovative system architecture provides the foundation for its extraordinary capabilities.
Agile Acoustic Architecture
Agile Acoustic Architecture uses proprietary dynamic models of the human body to help you acquire images on a broad spectrum of patients with minimal system adjustments. LOGIQ E9 helps you:
Acquire images quickly and with less keystrokes.1
Obtain image uniformity from the near to far field.
Achieve deep penetration even on large patients.
Help increase exam efficiency.
XDclear transducer technology
XDclear transducers are GE's highest performing transducers featuring advancements in acoustic engineering to help increase penetration1 and deliver high definition resolution. This technology is available on the C1-6 and C2-9 transducers. XDclear transducers are a patented combination of these GE technologies:
Acoustic Amplifier Technology recycles previously wasted acoustic energy into the transducer's crystal, boosting sensitivity.1
Single Crystal Technology increases bandwidth, offering better signal-to-noise ratio and improved axial resolution.1
Cool Stack Technology is integrated into the transducer's internal architecture that relieves inherent heat generation that can otherwise reduce sensitivity and penetration.
Enhanced workflow capabilities for your everyday.
The LOGIQ* E9 has features designed to help enhance workflow, mobility, and convenience.
Compare Assistant helps clinicians perform ultrasound exams that involve comparisons to prior ultrasound or other modalities. With this feature, clinicians can view a prior study while conducting the current exam via a split screen on the ultrasound monitor.
Compare Assistant helps:
Enhance exam preparation
Replicate prior views
Standardize imaging protocols
Interpret with less pre-work, added confidence
Scan Assistant helps reduce keystrokes and performs tasks which can help free you to focus on your patient.
Initiates and auto-completes required measurements
Automatically steers Color Doppler
Sets up imaging controls and modes
Inserts comments
Automatically reorders images to your preference, independent of acquisition sequence.
A GE-commissioned study performed by an independent third party sonographer revealed a 79% reduction in keystrokes and 54% reduction in exam time.
Breast and Thyroid Productivity Packages  help clinicians label, measure, and describe anatomy quickly and with confidence – and generate DICOM** SR-compatible summaries.
Ergonomics designed for you
The LOGIQ E9 is 20% smaller and 100 pounds lighter than our previous premium ultrasound systems, and offers remarkable mobility.
System design:
Highly intuitive user interface, button placements help reduce reaching
Full-sized, floating keyboard allows adjustment to personal preference
Customizable touch screen panel
Large monitor on an extended articulating monitor arm helps improve visibility and comfort during scanning.
Motorized adjustable height enables you to fit the system to your needs with the simple touch of a button.
Monitor tilts down to lessen obstruction while transporting the system.
Front and rear handles help make transport and maneuvering easy.
E-Series and XDclear transducers were designed with user input, featuring lighter materials, ridges for improved handling and proper grip, and flexible, lightweight cables.1
1. All comparisons based upon GE conventional ultrasound versus GE ultrasound featuring the above referenced features.
DICOM is the registered trademark of the National Electrical Manufacturers Association for its standards publications relating to digital communications of medical information.