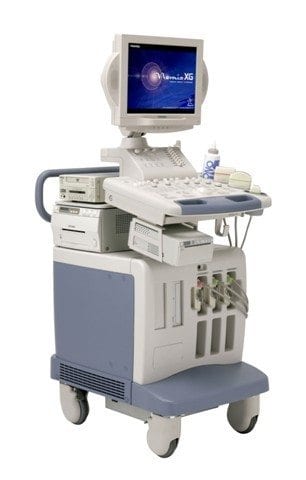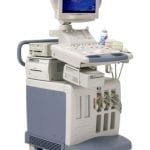 Toshiba Nemio XG
Quick Overview
Toshiba's Nemio XG is a fully digital, color, premium imaging system. It is compact, lightweight and portable, yet engineered with the latest technologies. The system is upgradeable to help further expand diagnostic capabilities and enhance clinical insight.
Description
Additional information
PDF Documents
Description
Features
Advanced Dynamic Flow (ADF) adds high-performance resolution to Color Doppler Imaging
Quickscan optimizes image quality with the touch of a button
Trapezoid Imaging extends the field of view for a better overview of the region of interest in both grayscale and color Doppler modes.
3 Transducer Ports
Fully Digital Architecture
Panoramic View reconstructs a single wide-view frame from continuous images for improved visualization of widespread regions and anatomical relationships
3D/4D Imaging
System Specifications
Height: 54 in
Width: 19.4 in
Depth: 30.7 in
Weight: 220 lbs.
Display Screen: 15-inch High-Resolution TFT LCD Screen
Applications
OB/GYN
Rectal
Cardiac
Musculoskeletal
Pediatrics
Small Parts
Surgery
Transcranial Imaging
Transvaginal
Urology
Vascular
Breast
Transducer Types
Phased Array
Convex
Microconvex
Linear
Endocavity
Operating Modes
B-Mode
M-Mode
Color Doppler
Continuous Wave Doppler (CW)
Pulsed Wave Doppler (PW)
Color-Flow Mapping
Tissue Harmonic Imaging (THI)
Transducers
TOSHIBA PSM-25AT – 2.5-3.6MHz, Phased Array (Adult Cardiac)
TOSHIBA PSM-37AT – 3.7-5.0MHz, Phased Array (Adult Cardiac)
TOSHIBA PSM-37CT – 3.2-5.0MHz, Sector (Abdominal)
TOSHIBA PSM-50AT – 5-6MHz, Sector (Pediatric Cardiac)
TOSHIBA PSM-70AT – 5-10MHz, Sector (Pediatric Cardiac)
TOSHIBA PVM-375AT – 3-6MHz, Convex (Abdominal)
TOSHIBA PLM-503AT – 5-9MHz, Linear (Vascular)
TOSHIBA PLM-703AT – 6-11MHz, Linear (Peripheral Vascular)
TOSHIBA PVM-621VT – 4.5-7.5MHz, Endocavity (OB/GYN)
TOSHIBA PVM-651VT – 5-8MHz, Endocavity (OB/GYN)
TOSHIBA PLM-805AT – 6-12MHz, Linear (Small Parts)
TOSHIBA PLM-1204AT – 8-14MHz, Linear (Small Parts / Breast)
TOSHIBA PVM-740RT – 5-10MHz, Endocavity Bi-plane (Trans-rectal)
TOSHIBA PVM-662VT – 5.7-8.0MHz, Microconvex (Neonatal)
Imaging Associates offers this ultrasound system in used and fully refurbished condition. Our refurbished ultrasound systems have undergone extensive testing and meet or exceed OEM specifications. They are re-configured to meet the current needs of the customer. They have been completely refurbished technically and cosmetically to like new condition. For more information on this ultrasound system please click on the box located at the top of this page, then fill out and submit the form.
PDF Documents