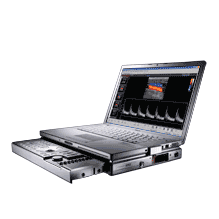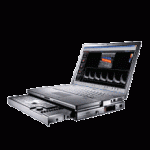 Terason t3000
Quick Overview
The Terason t3000 Ultrasound System is a powerful, portable imaging solution that offers image quality, networking and work-flow benefits not previously possible in a small system. The Terason t3000 System delivers world class imaging performance by leveraging the power of the Fusion Processor and a high-performance laptop computer. The familiar Windows graphical user interface makes the system intuitive and easy to use, and flexible design allows the system to be instantly convertible from a portable unit to a cart-based system.
Description
Additional information
PDF Documents
Description
Teratech Architecture
The Terason t3000 system is based upon Teratech Architecture, the most significant ultrasound system architecture breakthrough in years. Teratech Architecture combines the front-end Fusion processor with powerful PC-based software back-end data processing. Leveraging patented charge-domain processing and system integration technologies, this enormously flexible, scalable platform enables the development and seamless integration of cutting edge imaging applications and the flexibility to expand system capabilities. Teratech Architecture produces superb imaging and Doppler, and facilitates real-time, quantitative image and data analysis.
Fusion Processor
Terason's Fusion Processor is the brain of the Terason t3000 System. Unlike "custom ASIC" solutions that are based on off-the-shelf components, the Fusion Processor derives 256 beam forming channels. Its 128 transmit beam forming channels allow multi-focal transmit zones, each dynamically focused with different aperture, frequency and waveform characteristics. It also drives 128 receive beam forming channels, for incredible B-Mode sensitivity and exceptionally high frame rates, and supports higher frequency transducers for applications requiring high-resolution imaging.
High Performance Laptop Ultrasound
Unbelievable Portability
The t3000 system's compact size and light weight make it easy to image in crowded patient rooms or at remote sites. Weighing in at just 8.0 pounds, the system can operate on batteries for over 2 hours. The t3000 also easily converts to a cart-based system.
Unbelievable Usability
Because the t3000 system runs as a Windows application on a standard laptop computer, you already understand how to use it. Further, it offers PC-related productivity benefits that are second nature. Images, loops and reports can be transferred to standard word processing and presentation software applications with cut-and-paste simplicity. Data file management is intuitive. Wireless and Ethernet connectivity are built in. DICOM export is a snap, and integration with voice command and other applications is seamless. OneButton optimization simplifies the beginning of each exam by adjusting TGC's and a wide variety of other imaging controls, so you can immediately focus on the patient – not the hardware. During the exam, most common tasks are accomplished with a single keystroke.
The t3000 supports a wide variety of transducers and exam types, delivers powerful vascular and cardiac reporting, and is designed to augment larger systems for imaging at remote locations or to serve as the primary imaging solution in smaller or office-based practice settings.
Imaging Modes
2D/B-Mode, Fundamental and Harmonic Imaging
M-Mode
Power Doppler
Directional Power Doppler
Color Doppler
Pulsed Wave and Continuous Wave Spectral Doppler
Duplex Doppler (Simultaneous, Real-Time 2-D and Spectral Doppler Display)
Triplex Display (Simultaneous, Real-Time 2-D, Color Doppler and Spectral Doppler Display
ECG trace
Digital Image Acquisition, Storage and Management
Internal hard drive for image and data storage
Integrated CDRW Drive
Internal storage for more than 50,000 images
Storage of static images and dynamic clips
User-selectable formats for digital storage of static images and dynamic clips:

Lossless native format
AVI, BMP, TIFF and JPEG formats
DICOM 3.0 format
Transducers
Terason 5C2 – Curved Linear
Terason 12L5 – Linear
Terason 12HL7 – Linear
Terason 7L3 – Linear
Terason 4V2 – Phased Array
Terason 8EC4 – Endocavity
Terason 8MC3 – Miroconvex
PDF Documents